On 29th June an international conference was held, participated by Ministers of Culture of ten Central and Eastern European states: Poland, Czechia, Estonia, Hungary, Latvia, Lithuania, Moldova, Romania, Slovakia and Ukraine. Expressing gratitude to Ukraine's Minister of Culture and Information Policy, Mr Oleksandr Tkachenko for his invitation, Poland's Minister of Culture and National Heritage, Deputy Prime Minister Professor Piotr Gliński said: "We have to act responsibly and assist Ukraine, which is fighting not only for its own stake but also for the stake of Europe and the whole civilised world. In my assessment, this is a turning point in history. Nothing is going to be the same as it was prior to 24th February.
The ministers also took a Virtual Reality tour of the towns and cities of Eastern Ukraine destroyed as a result of the warfighting and the Russian occupation. They visited the exhibition entitled "Culture at Gunpoint" organised by the State Agency of Ukraine on Arts and Art Education, illustrating the effects of shelling of monuments and institutions of culture. They also visited Pavlo Gudimov's Ya Gallery Art Center and the Lviv National Arts Gallery. They went sightseeing in the historical centre of Lviv (a UNESCO Cultural Heritage Site), currently dominated by historical structures covered for safety in case of an assault.
Deputy Minister Profesor Piotr Gliński also visited the Lychakiv Cemetery in Lviv.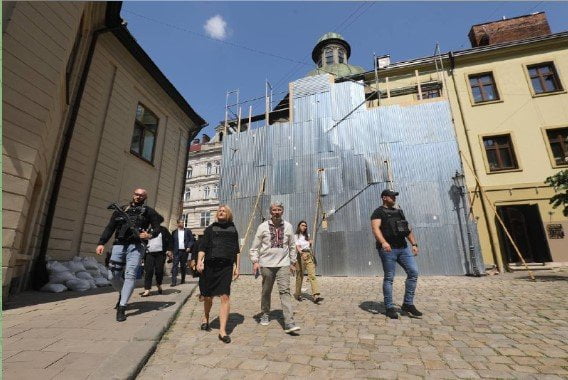 Fot.:
https://www.gov.pl/…/wicepremier-prof-piotr-glinski…
https://t.me/otkachenkokyiv/1740
https://t.me/otkachenkokyiv/1741